Monuments and Headstones
Our Business
Store Hours: 9:30-5:00 Mon-Fri w/Saturday appointment only
Store Phone: (512) 868-4444
Avalon Monuments is a family-owned and operated monument company offering the finest stones available and services related to the creation, delivery and customizing of new or existing stones. Located in Georgetown, Texas, we will ship anywhere in the United States.
We specialize in on-site sandblasting of final (death) dates, custom lettering and emblems on monuments, mausoleums, signs, benches, bricks and other building structures. Add a photo to an existing memorial or a family name to the back of a headstone. Our family will make your family decisions at this sensitive time as easy as possible.
Products
Avalon Monuments provides the highest quality custom monuments, headstones, portraits, memorials, cremation urns available. We offer bronzed granite, styled benches and other specialized items. For detailed information and sample photos of our products, please see the Products section.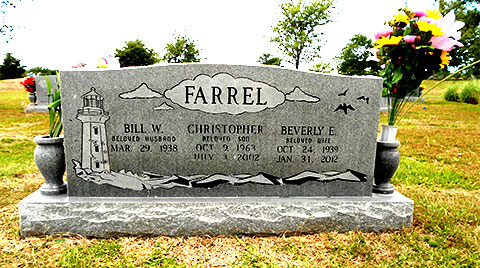 An example of the application of a final (death) date to an existing headstone
Services
Avalon Monuments provides specialized, custom services based on your personal needs. Cleaning and reseting headstones and monuments, sandblasting or etching final (death) dates, applying customized lettering to existing monuments, and manicuring plots are a number of related services provided within a thirty to fifty mile radius of the Georgetown, TX, vicinity.
Additional details may be found on our Services page.